Pumpkin

Valerie Byron

© Copyright 2023 by Valerie Byron





Photo courtesy of the author.



Life changing stories may come from seemingly unimportant events. The internet brings people together, especially Facebook, where those with interests in common may never meet in person, yet have a dramatic impact on each other's lives. This is such a story. It is about a delightful cocker spaniel who needed to get home - six thousand miles away.



I have no recollection of how we became Facebook friends – it seemed as though Paul just appeared in my daily feed one day and I was taken with his posts. He was British, like me, and a writer. Perhaps we had met on a writers' site? That is probably what happened, but it is not important to this story.

Sometimes one becomes entranced with a stranger's history and becomes embroiled in their drama. That is what happened to me.

I must have become intrigued with his ongoing saga towards the end of his stay in California around October or November of 2022. When I first started taking notice of his Facebook posts, he had decided that he could not live here any more, and was going to return to the Midlands of England, to join his sister in the house of their childhood. He seemed ecstatic at the thought of leaving his rented room in a mobile home park, where he had lived alone with his beloved emotional support dog, Pumpkin. He had an interesting history of being a horror story writer, a chef and an uber driver, and entertained his fans with many tales of his life both here and in the UK. However, the one story that drew me and everyone else in was the drama concerning his cocker spaniel, Pumpkin.

Paul had obtained the dog as a puppy and she had been his comfort during stressful times. Suffering from PTSD and major anxiety, his life had not been easy since his divorce which had left him financially bereft. His plan was to leave for England at Christmas, and take Pumpkin with him. The only problem was funds and obtaining the necessary shots and paperwork for the dog to be transported via a pet courier company.

It touched my heart to read the blinding headlines of his posts – his despair and helplessness as to what to do. The local vet had overcharged for a chip, which had turned out not to be the right one for international travel. The expense of transporting the dog was exorbitant. Paul was at his wits' end when friends on Facebook suggested he open a GoFundMe account. I thought this was a great idea and immediately donated a few hundred dollars to get the ball rolling. Unfortunately he did not reach his goal and it appeared as though the initial excitement of donating funds had waned amongst his followers. I decided to bite the bullet and transferred a couple of thousand dollars into the account, hoping he would have enough to make the task easier.

December arrived and he was ready to leave. Unfortunately, he still did not have the correct paperwork for the dog to accompany him and had to leave her with a neighbor in the mobile home park. It was not the best solution, as the location was several hours away from the airport and the neighbor did not have the financial or emotional means to get all the necessary paperwork finalized from the vet as well as transport Pumpkin to the airport when the flight was confirmed.

I could feel the desperation in his posts. He was about to snap emotionally. The dog was his everything and he could feel her slipping away. Just getting to England himself in December was a nightmare, what with cancelled flights and long waits. The newspapers were filled with stories of blinding snow in London and people being stranded. However, he managed to finally make it home to a loving welcome from his sister and family. Life was looking a lot better but – what on earth was going to happen to Pumpkin?

I followed his posts eagerly every day, and on December 31st read, with an aching heart, that Paul was having a panic attack, believing he would never get his beloved dog back. There and then my daughter and I decided to get her. I wrote and asked him if we could pick her up and take care of her needs until it was time for her to be transferred to the airport, via pet courier, on February 1st. He was grateful and happy for the offer – and so off we set on a two hour journey to Hemet, California on New Year's Eve. My daughter, myself and my twin grandchildren, aged 6 were ready, willing and able to rescue this pup.

We finally arrived at the mobile home park, to be greeted by an older woman and a very friendly cocker spaniel. She was beautiful, colored white and gold with a stumpy tail that never stopped wagging. She had the cutest freckles across her adorable face and appeared very happy to see us, especially the children. After a brief visit with the neighbor, we took off for home, with Pumpkin squeezed in the back seat between the twins.

Life changed quite a bit having a rambunctious two year old pup in the house. My small parrots had to be banished out of the playroom into my bedroom due to interested paws pushing through the bars of their cage. Daily walks were needed as well as special food, vet visits and all of us adjusting to piercing barks whenever the vacuum cleaner was run or a large box was delivered from Amazon Prime. Trying to get the twins dressed in the morning became a battleground of children and paws, all intertwined on the bed between the clothes, and shrieks of dismay from William, "Stop licking me, Pumpkin!" Still, it was great fun and we sent daily photos of Pumpkin to Paul to reassure him that she was doing just great. Naturally he posted my pictures on the internet, and all his Facebook friends and fans were following the story with great interest and support.

I think the daily walks to and from school were the most exhilarating for Pumpkin. We had to make frequent stops along the way to listen to band practice at the high school across the street, not to mention floppy ears coming to attention at the sight of crows on the playing field. But the most excitement was when all the children came to the gate, waiting for the school bell to ring at 2:30 pm. Eager hands were thrust through the railings to pat, stroke and poke Pumpkin, who took it all in her stride.
She gave lots of licks and jumps for every child, and their parents, who seemed to look forward to her appearance every day.

Our gentle old cat, Madison, was a little affronted. She was willing to share her water bowl, but took offense to a 37 lbs dog trying to sit on her in her basket. Her good nature was stretched, and we laughed as we saw her furry paw give a back-hander to our naughty guest.

Today is the one month anniversary of her stay with us, Monday, January 31. Yesterday, Pumpkin had her final vet visit to obtain a health certificate, a de-worming and a bath. She came home clean and fluffy, despite the pouring rain outside. We had to keep her indoors to maintain her beauteous state. Her final papers were sent to the USDA for approval and arrived by federal express at our home this morning. Unfortunately, they were all wrong! Four visits to the vet later, as well as a multitude of emails back and forth to the Pet Transport Company, I finally got everything sorted out and now have to pray that they will be sent overnight to the airport in time for Pumpkin's flight.

Tomorrow morning my daughter will drive her to a pet resort near the airport, where a driver from the pet transport company will take her to the airplane. We have her crate all ready – but she is reluctant to go inside. Hopefully we can persuade her to sit in it for a while before it is time to leave.

I have spent many sleepless nights recently, worrying about the almost eleven hour plane flight and the many hours in customs afterwards...and then the two hour drive to her home. I try to imagine what it will be like for her, crated up in the belly of an airplane with nowhere to stretch out and no food to eat. I worry about the heat, the noise, and the scary surroundings she will have to adapt to. My mind has been put at ease somewhat by a very lengthy email from Starwood Pet Transport who have allayed my fears. Apparently they transport pets all the time, and they assure me she will be just fine. So I plan to just think of the magnificent reunion Pumpkin and Paul will have on the afternoon of February 2, 2023. Friends, family and even strangers who have become emotionally involved in this story cannot wait to see the videos, the embraces and feel the love. It is only when she is back in Paul's arms, safe and sound, will I be able to sleep the sleep of one who has done something good in her life.
Au revoir, Pumpkin. You are loved.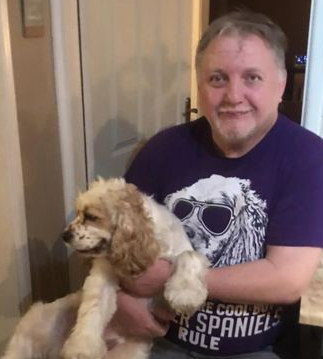 Paul and Pumpkin.


Contact Valerie (Unless you type the author's name in the subject line of the message we won't know where to send it.)




Valerie biography and story list
The Preservation Foundation, Inc., A Nonprofit Book Publisher