Dear Ms. Thayne--please call Richard Loller (615 269-2433 or 800 228-8517) or contact us by e-mail. Our e-mail messages are returned so we need your new addrsss.
Reader--If you know Ms. Thayne please ask her to contact us. Thank you.
Through My Eyes
Marjorie Thayne
© Copyright 1998 by Marjorie Thayne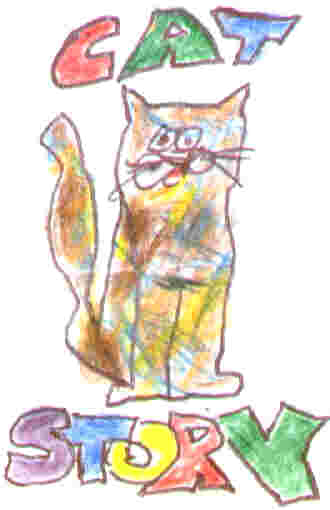 Wow! A new world and new adventures for us.
While on vacation from her job, she looked out of the front door and noticed us as we sat on her porch. The household had only one nine year old outdoor cat, named Cotton. A yellow and white striped long hair cat. He may be our dad. Mom, midnight black, with eerie green eyes was a neighborhood cat left from the last residents who lived next door. The mating of these two beautiful felines begot Nameless and I.
My name is Goldie, the name bestowed upon me by the woman. I am female with yellow and black horizontal stripes. My paternal twin, named Nameless, has grey and black horizontal stripes.
"I thought you said Cotton was fixed," said the woman to the man surprised by the situation.
"I'm not sure now," he replied as he shrugged his shoulders. Then he continued, "But, aren't the kittens cute? One looks like Cotton. Let's keep them, give them shots and have them fixed."
"Oh no. One cat is enough. You know that I'm not fond of cats and that I prefer dogs."
We were feed daily, usually around six o'clock by the woman. Supper consisted of small nuggets of cat food and low-fat milk. One warm summer evening while we ate, they watched and talked.
"Their personalities are so different. The gold one has a bold, daring, so what if you are human attitude. The other one is shy or caution about it's surroundings. He, we'll say it's a male, runs away whenever we get close. We'll never catch him," said the woman as her voice rose an octave.
"We'll slowly tame both. Are you sure that you don't want to keep them?"
She gave him that look.
After I ate, he stroked my back softly, then picked me up and scratched me behind the ears, while I purred with satisfaction. Slowly, I accepted them as part of my world.
One evening the door opened and Nameless and I ran into the house. What confusion. He ran in quickly and then hastily retreated. I crouched in a corner as she tried to get me out. I solved the problem and exited the house hurriedly. The woman said she didn't want any cats in the house because we may regurgitate fur balls on the carpet. Outside again, the man picked me up and repeated his acts of kindness toward me.
I've lead a risky life. You guessed it, a dog. I taunted the dog in the rear yard several times. Of course, he didn't catch me because I was smart and escaped through the space in the fence.
I'm irresistible. Eventually, she gave in and stooped to pick me up and slowly rubbed me, though she didn't scratch me behind my ears like the man. One day she watched as I groomed myself after the evening meal. I stretched my long body, licked my paws and flexed my claws as I pulled on the door mat. What a show.
The waiting game bolstered my curiosity. I wanted to get inside the house again so I sat outside the door and waited for it to swing open. With my sense of smell, I located the cat food in the pantry. I walked around in circles and meowed. It worked. The woman put a few morsels on the floor. I made a crackling noise as the nuggets were crushed with my strong tiny teeth. I finished and waited for more. No more. She picked me up and deposited me outside.
Nameless should learn to accept the human world but all he does is play with me, eat and departs at their arrival. He's missed the cuddling and affection that I've received from them.
"Let's give Nameless away and keep Goldie," said the man. "I like her. She can be an indoor, outdoor cat."
"Maybe. I like her coloring, but she must be spayed, if we decide to keep her. Remember, our front porch isn't a pet haven."
I heard that familiar voice call me one afternoon. Confidently, I stalked toward the man, who patted me affectionately, and then he placed me in the arms of a different woman. Gingerly, I was lowered into a perforated box and given a handful of food. I soon left behind my sibling and my comfortable old world.
Again, I am ready for a new world, ready to express a bold and daring attitude.
Contact Marjorie
(Messages are forwarded by The Preservation Foundation.
So, when you write to an author, please type his/her name
in the subject line of the message.)