Chelsea Simon-Cat Returns
Maxine H. Simon
© Copyright 1998 by Maxine H. Simon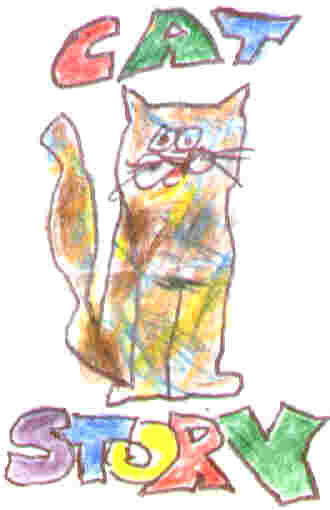 Miss Chelsea Simon-Cat returned Friday following a mysterious disappearance. She was spotted on the walkway to her back door at about 5:00 p.m. after she had been missing for more than 24 hours.
Miss Simon-Cat was seen on Thursday between 2:30 and 3:00 p.m. when she entered her house for a midafternoon snack and left shortly afterwards. "I was a little suspicious that something might be wrong when she didn't show up to sit in the driveway between 6:00 and 7:00p.m.," said Maxine Simon, a relative. "She's a very regular individual and that's where she usually is at that time of day." Neighbors Tod and Sue Brown corroborated this story. "We usually get home from work about 6:30 and notice her flaked out in the driveway. We didn't see her on Thursday." When she didn't return for dinner by 9:15p.m., the Simons knew something was wrong. "We were very worried as she is not one to stay out late. She kept regular hours," said Bill Simon, another relative. A search was organized and continued for over an hour till the search party gave up for the night.
The next morning, with still no sign of little Chelsea Simon-Cat, relatives tried to be hopeful but knew the situation might be grave. A check of the major roadways near the home did not turn up any physical evidence. The authorities were called and a trip was made for possible identification at Pittsford Animal Hospital. This turned out to be negative. The Simons, lead by relative Rob Simon, spent Friday producing and putting up fliers around the neighborhood. The mailman, Joe, was also alerted to be on the lookout. "I had a cat that was lost for 2 weeks and he came home," said Joe, trying to keep spirits up. "Chelsea kept to herself. She didn't get into trouble," commented neighbor Judy Walter. "She was friendly in a reserved way," said another neighbor Sheila Pelton. "She used to frequent my yard alot but she was pretty well behaved." Another neighbor, Sweetheart Norris had no comment however, suggesting there might be some foul play.
At 4:45 p.m.on Friday, neighbor John Norris returned home, opened his garage to remove his lawnmower and began mowing his lawn. At 5:00 p.m. Simon-Cat was spotted simultaneously by Bill Simon returning from work and Maxine Simon. Maxine said she heard Chelsea's bells from inside the house and rushed to the window hoping for the best.
The whereabouts of Miss Simon-Cat for the last 24 plus hours were not clear. However, Mr. Norris when interviewed revealed that he found some mysterious cat droppings in his garage when he unlocked it to remove his lawnmower. "It's possible that she was locked in my garage for that period of time," he said . Authorities are investigating the mystery, but all evidence points to this explanation. Sweetheart Norris again had no comment.
Miss Simon-Cat was clearly glad to be home after her ordeal. "However she is still the same crabby cat," Bill Simon remarked. When interviewed, Miss Simon- Cat said, "Just because I'm glad to be home doesn't mean I'm going to sit on your lap." "But," she added, "I may let you pet me."
Contact Maxine
(Messages are forwarded by The Preservation Foundation.
So, when you write to an author, please type his/her name
in the subject line of the message.)
Another story by Maxine: Self Defense